New analysis shows that EPA is falling behind on eight critical climate and air quality regulations for the power sector, with only two rules on track. 
Today, Evergreen Action released Falling Behind: A Report Card on the EPA's Progress on 10 Important Power Sector Rules. The passage of the Inflation Reduction Act helped to ensure historic progress towards President Biden's climate goals, but multiple analyses found that the IRA on its own will help cut carbon pollution by around 40% below 2005 levels by 2030—still short of the President's commitment to reduce carbon pollution 50–52% economy-wide by 2030. To close the remaining emissions gap, put the country on track to meet President Biden's commitment to 100% clean electricity by 2035, and help ensure a more liveable future for all, federal agencies must pursue a more robust regulatory agenda to comprehensively tackle pollution. 
At EPA, Administrator Regan has committed to pursuing a coordinated multi-pollutant strategy to address pollution in the power sector. Unfortunately, Evergreen's analysis found that EPA is falling behind on eight of the ten regulations critical to tackling power sector pollution and is now at risk of leaving critical standards either unfinished at the end of President Biden's first term or vulnerable to overturn via the Congressional Review Act.
But the good news is that despite the Supreme Court's infamous West Virginia v EPA decision this summer, EPA maintains the authority to set ambitious standards that tackle climate pollution from new and existing power plants—as well as the local pollutants that harm public health and exacerbate environmental injustice. EPA can and must exercise that authority quickly to make up for lost time and get back on track.
Read the full report card here. 
"The Biden administration has undoubtedly taken historic strides to champion climate action—but the reality is, they've still got a long way to go to meet their goals, and right now they're falling behind," said Evergreen Action Power Sector Policy Lead Charles Harper. "Power plants are America's #1 industrial source of deadly air pollution, disproportionately harming communities of color that are consistently exposed to more air pollution than their white counterparts. And cleaning up the power sector will be vital to achieving America's climate goals as sectors like buildings, transportation and some heavy industry turn increasingly to electrification. If EPA is serious about its mission to protect human health, and the Biden administration wants to keep its climate and environmental justice targets within reach, they simply cannot fall any further behind on any of these critical standards. EPA must move further, faster on its power sector agenda."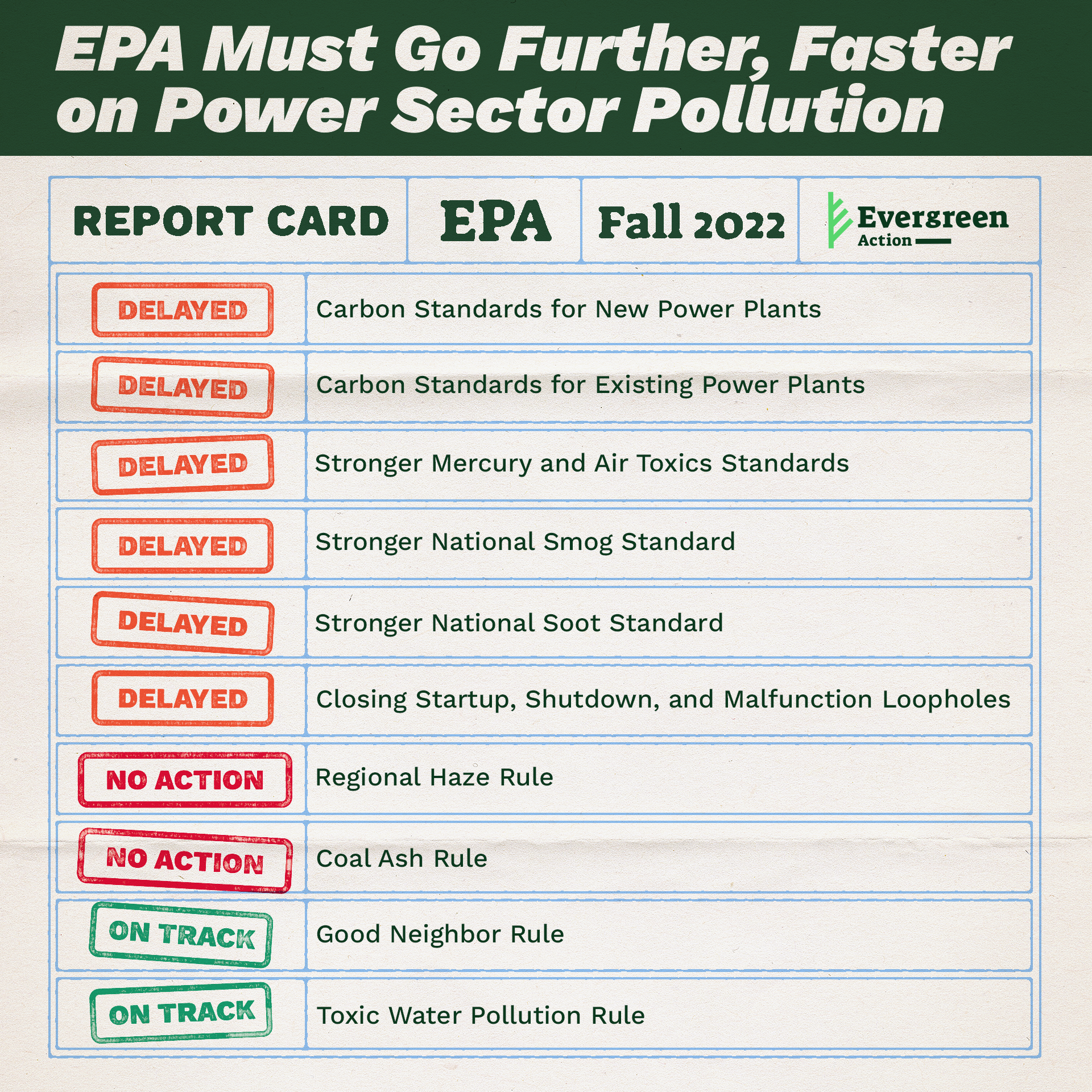 Evergreen's new report card details EPA's progress on 10 important climate and air and water quality regulations and offers expedited timelines for the regulations that are currently behind schedule.
You can read Evergreen's full analysis of EPA's progress on these rules here.
###